Stress control and personal development
Good conversation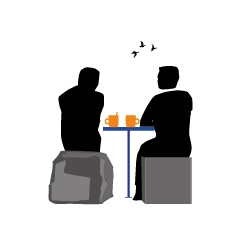 A good conversation
Sometimes you just get stuck at work or in the private situation. Then it is nice to use our opportunity to have a good conversation on a regular basis. A light form of coaching with many positive effects. You will get tips, advice and occasionally a customized exercise, which will allow you to continue with your (active) life.
Common subjects are:
Problems at work.
Labor conflicts.
Career issues.
Organization developments.
Overvoltage due to high working pressure.
Stress and Burn out.
Work relationships.
Absenteeism due to: Relational problems, depression, serious illness, separation or mourning.
Real listening is important.
We are all different. Everyone was born with a unique composition of genes. Then there's the influence of the environment in which someone grows up, the education, experiences with friends and colleagues. But also diseases, life experience with associated habits, lifestyle and the air that is inhaled. A lot of real listening gives insight into what someone is looking for.
If you are stuck, it is important to be supported taking into account your unique situation. A conversation with respect, recognition and understanding. Without judgments and stigma's.
Expectations
Often, it's about expectations that someone has from colleagues, a responder, family or friends. But above all the expectations of the organization or society. Too often, this expectation is unrealistic and cannot be met. More balance between expectation and reality promotes recovery.
A good conversation
This is largely a feeling of being understood, because you are being listened to. And then, with our support, take steps toward a new balance when it comes to the pillars of work, personal and personality. Because that is where the path to solutions lies, so that the future can be seen with confidence.
In practice
The possibility of a Good Conversation is applied differently by everyone. For example, one-off talk can be made about a topic such as bad news or a work-related problem. Just say one consultation.
There is often periodic contact with entrepreneurs. They discuss monthly matters they encounter. This sparring is very nice for topics that you do not want or cannot discuss with colleagues.
This is also regularly used privately.
Then someone comes by to talk about informal care, loneliness or complicated teenagers. An expert advice helps a lot of people get back on their way.
Personal guidance & development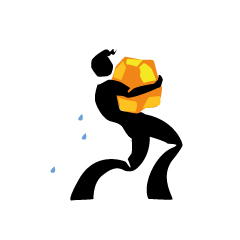 Future
Probably you are in a difficult and stressful period and therefore threaten to get overworked. As a strong personality, you are motivated to take control of the stress and build a future again. But getting'n (active) life back on the ride after such a period is not always easy.
You want to know who you are, what your limits are and what you can achieve. You want to have a clear picture of the causes of the problems and know how to deal with them differently. Much more fitting to your life, which has made your self-confidence grow enormously. A better social life, more stability and continued participation in the labor market. Be able to determine your own life without being dependant on others.
A special method is used to recover quickly and effectively. Nudger and with clear structures, together address the problems and make sure that you can continue your life. With our inspiration and guidance you will soon be in the middle of life, confident again. Perfect and unique as you are.
For people who want to go further!
The program has been specially developed for people who feel they are stuck in their current patterns. People who want to go further instead of back. Push-through, who can think carefully, but who can use inspiration. Think of someone, who for example:
Just want to get everything in a row (reset).
Want to distance themselves from the current reality.
Experience a sense of overtension every day.
No view of a future with less stress.
It takes time for reflection, because, for example, you are about to make an important decision. Think of business takeover, sale or divorce.
Being close to Burn out.
Every day tries to deal with the consequences of a major event, such as a loss, personality disorder or ptsd.
People who are stranded.
Whether they have already followed a number of therapies, but have not been adequately restored.
Others have been at home for months with a Burnout or are waiting for psychic help. For them too, breaking the vicious circle is a good first step toward recovery.
Personal plan of approach
Part of the method is, among other things, to work together to draw up a personal and realistic plan of approach. This certainly includes the alignment with the (desired) function in the labor process. As a result, an improvement may be initiated, allowing you to get back to work with pleasure.
Result: Personal change
A significant personal change has been made, when it comes to mindset and the lifting of certain blockades.
What can you expect?
Clear structures for preventing a burn out.
During the entire program individual coaching by experienced (NOBCO) coach.
Our respect for privacy. You decide for yourself what you want to tell.
A personal plan of approach.
Reducing the risk of chronic stress.
Investment in changing
Choose this sustainable change in your life and contact us. You will receive detailed information from us, including the price.
Different variants are always negotiable.
Let us know your question or ask for more information.
- Learn more about the causes and consequences of a burn out.